SANIA MIRZA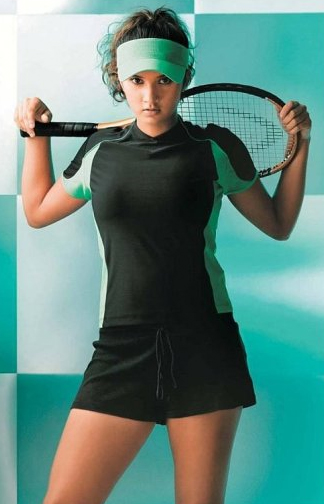 Sania is a hard-working, overachieving phenom who has stayed remarkably down-to-earth. Despite her successes on the WTA circuit, Sania still travels with her mother and giggles like a schoolgirl when discussing her private life. Watching Sania blush her way through interviews, it's easy to forget that her fierce serve and powerful game make her one of the better female tennis players on the planet.
Tennis sensation Sania Mirza is dispatching foes at a historic rate. Sania is the first Indian woman to advance to the fourth round of a Grand Slam tournament, the first to win a WTA singles title and the first to win a junior Grand Slam title. To date, she's beaten two top 10 players, and has successfully cracked the WTA's Top 30 rankings.
Sania Mirza may not have come into this world with a racket in her hand, but it didn't take long for the tennis phenom to pick one up. Born on November 15, 1986, in Mumbai, India, Sania was encouraged to start playing the sport at the age of 6. "I used to go swimming and passed the tennis courts every day," she recalls, "and that's how it started. My mum said 'Why don't you play tennis in your summer holidays because you have nothing to do except swim for an hour or whatever?', and that's how I started playing.
Getting her career on track was another matter altogether. "My mother took me to a coach, who initially refused to coach me because I was too small," says Mirza. "After a month, he called my parents to say he'd never seen a player that good at such a young age."
Encouraged by the coach's assessment, Sania continued to train long and hard while her peers enjoyed more frivolous pursuits. In retrospect, she realizes she may have missed out on having a regular childhood, but doesn't regret it for a moment. "I realized that if you don't make those sacrifices, I don't think you can make something out of your life," she says. "Sometimes I did feel I was missing out, like sometimes I'd want to go to a birthday party but I couldn't because I had tennis." Fortunately, Sania's remarkable focus and determination paid off.
SANIA MIRZA WINS ARJUNA AWARD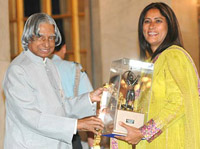 After a promising amateur career, Sania turned professional in 2003, the same year that she teamed up with Alisa Kleybanova to win a Wimbledon Championships Girls' doubles title. "It is a dream win," she said at the time, "We just met a week and a half ago, and we were like 'You wanna play doubles?', and we combined really well and beat the top seeds. After that we didn't look at the draw." The victory wasn't just triumphant, it was also history in the making, as Sania became the first Indian woman to win a junior Grand Slam title.
More success followed in 2004 when Sania delighted her legions of Indian followers at the Hyderabad Open. This time around, she partnered with Liezel Huber, but the results were the same, as the pair captured the doubles crown. This victory further added to Sania's legend, as it made her the youngest Indian to win a WTA or ATP tour title and the first Indian woman to win a WTA title event. In recognition of her amazing progress, the government of India awarded Sania the prestigious Arjuna award, presented in recognition of outstanding achievement in sport.
SANIA MIRZA'S GAME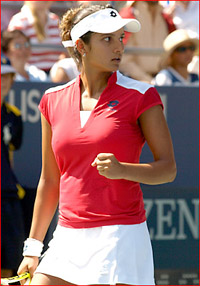 When it comes to sizing up her game, Sania Mirza is remarkably honest. "I'm not that fast on my feet," she admits, "but I have amazing timing on the ball, which is why, although I'm not that strong, I still hit the ball harder than most of the players on the circuit."
Indeed, her hard-hitting power game has drawn comparisons to Romanian legend Ilie Nastase, another player who knew a thing or two about driving home a point. "It just suited the way I'm built," she explains. "Maybe if I played squash or badminton I needed more movement, more reflexes. So, it just happened."
Call it destiny if you like, but the idea of things "just happening" seems to have been a consistent thread through Sania's young life. The Mumbai native began playing tennis at the age of 6, noting the game "just suited my style and personality."
And what a fit it's been. Since turning professional, Sania has won a 2003 Wimbledon Championships doubles title, the 2004 Hyderabad Open doubles championship and the 2005 Hyderabad Open singles crown. Along the way, she's captured the hearts and minds of her fellow countrymen, igniting a phenomenon known as "Sania Mania."
SANIA MIRZA'S PERSONALITY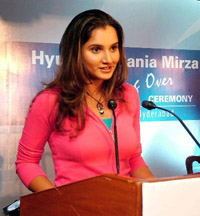 Friendly and effervescent off the court, Sania is all business when she's on it. The Hyderabad Open champ has valiantly played through severe abdominal pulls as well as other nagging injuries that would have had lesser competitors begging out of the action.
Sania was even voted Best Player of the Day at the 2005 U.S. Open after defeating Marion Bartoli despite suffering from badly bleeding toes. That fierce determination has led publications like The Times of India to label her "Super Sania."
When not serving aces and smashing volleys, Sania likes to express her personality through the cheeky T-shirts she wears to her post-game press conferences. Among the messages she's worn across her chest are "I'm Cute?", "Don't Get in My Way," and "Well-Behaved Women Rarely Make History."
In her spare time, Sania claims that she likes "being at home, because I am hardly at home; I am always traveling. I like staying at home, just watch a movie at home. Surf the Net.
SANIA'S NATURAL BEAUTY & SEXINESS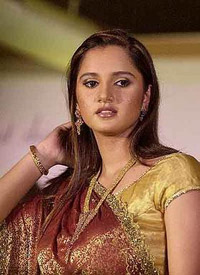 Only 20 years old, Sania is still growing into her 5'7", 130-lb. frame, as evidenced by her round, healthy face and still-lingering baby fat. Nonetheless, Sania has been blessed with a tall, strong frame, gorgeous long hair and deep brown eyes
Sania's sexiness is a matter of great interest in her native India. As she is Muslim by birth, many believe that Sania's exposed flesh is not in keeping with her religion's traditional standards of dress and decorum. On September 8, 2005, the Hindustan Times reported that a religious scholar named Haseeb-ul-hasan Siddiqui had issued a fatwa on Sania because of the clothing -- or lack thereof -- she wore when competing. The All-India Shia Muslim Personal Law Board has since called the fatwa "unnecessary and uncalled for," but the debate still rages among some.
"As long as I am winning, people shouldn't care whether my skirt is six inches long or six feet long," Sania said following the fracas. "How I dress is a very personal thing. It is scary that every time I wear a T-shirt, it becomes a talking point for the next three days."
When it comes to men, Sania has a very specific idea of what she likes. "He has to be good looking and over six feet tall," she says. "No, on a serious note, I think he needs to understand me and he needs to be a nice person and not have any ego hassles. I need a guy who understands me." Think you fit the bill? Keep in mind that you'll have to get by Naseem Mirza, Sania's mother and constant traveling companion on the pro circuit.
Photo Gallery